Health Choice Integrated Care web and print content
About HCIC web page
HCIC Member Frequently Asked Questions
HCIC Mental Health First Aid Program
HCIC Programs of Care

Blog posts
What's the Matter with Miracles?
Practice Mindful Content
Media
The Institute of Noetic Sciences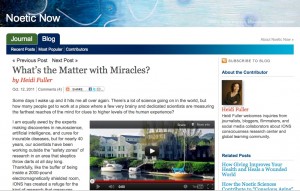 Media Resources (all linked material)
What are the Noetic Sciences?
The Living Matrix documentary
Online
The Lost Symbol press release
Soul Food Farm Website Pages
---
Strategic Messaging and Writing

Wine
For the first American-made Albariño, the beloved white wine of the Rías Baixas region of Spain, I crafted a media pitch that began: "If red wine is the soul of Spain, the refreshingly floral Albariño is its heart." Bon Appetit, USA Today, the Associated Press, and other major media used that line to begin their own staff-written coverage. It still shows up.
Celebrity Science
The Institute of Noetic Sciences was a central theme in Dan Brown's The Lost Symbol. I took advantage of two high visibility negatives and turned them into a high visibility positive, gaining instant celebrity for a little known science. The first was the controversy during the launch of Brown's previous novel, The DaVinci Code. The Catholic church wanted to suppress the novel for its "anti-Catholic" sentiment. The second was the well-known skepticism the Catholic church has for noetic sciences. Our approach won major media attention:
Leading Authority on Noetic Science Hails Dan Brown's "The Lost Symbol"

Author Dan Brown may have had the Vatican fuming over The Da Vinci Code, but his newest book, The Lost Symbol, is being welcomed by one of the world's leading authorities on Noetic Sciences, who also happens to head the Institute of Noetic Sciences – identified by Brown as one of the real organizations in the novel that actually exist.
Health Care
For a documentary about the new science of healing, we optimized the fiery "health care debates" of 2007/2008 to create a campaign called "Healthier Health Care Debates." Our media spokesman led all of his interviews with this sentence: "We need to heal the health care debate. People want to learn more about what constitutes health – not just what constitutes their health plan."
Fundraising
For a nonprofit that was bleeding membership and audience signups for educational webinars and digital publishing subscriptions, I educated the engagement team on addressing audience needs and perspective in programs and materials. For a campaign to reach health care workers, we focused on how programs support health care workers' ongoing professional development demands:
How are you feeling?
Chances are you have an ache or two, but you take good care. In fact, while you've always tended to the body, thanks to strides in consciousness research, you now are able to nurture your mind and spirit so that you gain inner vitality from balancing all three. Your contribution to IONS helps our research continue to influence health care towards more mindful integral healing. Please join as a partner-level member, and let us send you a Welcome to Consciousness and Healing "vitual basket" full of downloadable healing resources, talks, and learning. It's only $10 a month. Click here to join.
---
Blogs
Content4Good
The ScreamingLady
The Social Media Season – 2010
The Creative Writing Season – 2007-2009
Examiner.Com Health & Fitness Blog